NRSV Bible
This electronic edition of the New Revised Standard Version (NRSV) of the Bible is easy to navigate. Each book is presented as a list of "stories" with scripture reference and story heading.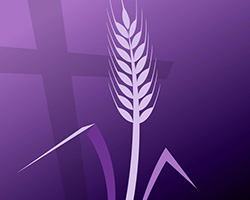 Each week we present a range of graphic interpretations of the Sunday Gospel that can be used to create liturgical banners or used in printed documents. We have an extensive clip art library ready to use for any type of printed document.
Presentation Slides
Order of Service Presentation Slides are available as PowerPoint format files for each Sunday, major feasts and solemnities. Available in different variations (colour, B&W, with or without images) the PPT files can be edited to suit your needs.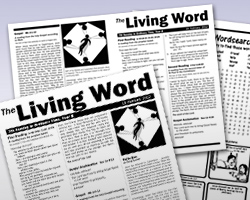 Our pre-formatted weekly Bulletin Masters are a great to help to any parish secretaries. Available in PDF format as "The Living Word" or with a blank masthead, A4 or A3 with a selection of reflections.
Audio Text Reader
Our built-in text reader allows you to listen to texts by simply clicking the available play buttons. You can also listen to any highlighted words to help with pronunciation. Choose one of nine different male and female voices.
Music Filters
Music selection is made easier with a wide range of controls to quickly filter our music suggestions to best meet your needs. Filter music according to the Author/Composer, degree of difficulty, hymnal, meter, music-style, theme, etc.
Sacrament Certificates
Printable certificates for the Sacraments of Baptism, First Holy Communion, and Confirmation. Download as blank printable documents for completion by hand, or use the online certificate generator.
Seasonal Resources
In addition to the regular weekly resources, we have a variety of additional resources for each season, including seasonal overviews for musicians, additional childrens' activities, etc.